Latino Reel is an event during Sundance Film Festival for Latinos in film/filmmaking and supporters, to gather, learn and network. Latino Reel promotes Latino inclusion in entertainment industry. We drive the attendance of Tastemakers and Influencers. We partner with sponsors to host Engaging Events.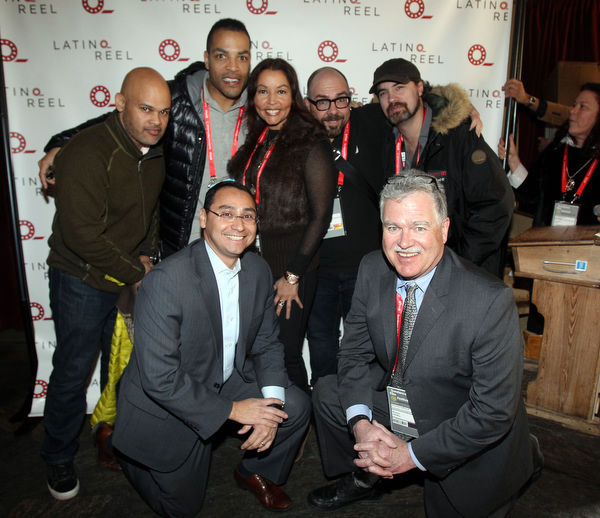 2016 Latino Reel Event Agenda • January 22 • Buona Vita Restaurant (804 Main St., Park City, Utah
1:00pm — 1:15pm
Welcome
1:15 — 2:15
Presented by PBS
Making Films that Matter: Examining the Capacity Latino Documentary Filmmakers Have to Impact the National Narrative and Shape Contemporary American Culture
The Documentary is at a zenith in social and cultural influence. Today, more non-fiction films are produced per year, and are distributed on a wider spectrum of platforms than at any point in the history of the genre. At the same time, as the Latino population increases, what is the role of Latino documentary filmmakers in influencing America's cultural discourse, and how do we integrate our stories and perspectives into all levels of contemporary American society?
Moderator:
Richard Ray Perez, Director, Creative Partnerships, Sundance Institute Documentary Film Program, and Director, Cesar's Last Fast.
Featured Guests:
Pamela A. Aguilar, (Director Programming and Development, PBS), Carla Gutierrez (Editor, When Two World Collide), Loira Limbal, Vice President + Documentary Lab Director at Firelight Media, and Rodrigo Reyes (Director, Purgatorio).
2:15pm — 3:15pm
What Happens When a Great Story Is Cast with Diverse Talent
Moderator:
Dolly Turner, President, The Turner Group
Featured Guests:
Actor Adrian Martinez, focus and Walter Mitty, as well as over fifty guest spots, actor Ralph Rodriguez, The Son of No One and Compliance, actor Brian "Sene" Marc, Elizabeth Wood, writer/director, and Gabriel Nussbaum, producer.
3:15 —3:30
Intermission
3:30pm — 4:30pm
Presented by Time Warner Inc.
Elevating Latino Voices
OneFifty Spotlight
Content creators from Time Warner's newly launched incubator discuss innovative ways to build a relationship with – and create content for – a leading media company. Time Warner, parent company of HBO, Turner, and Warner Bros., is embracing unique voices who push storytelling boundaries across film, television, and digital content to connect with today's audiences.
Introduction:
Lisa Garcia Quiroz
President, Time Warner Foundation
Moderator:
Tamir Muhammad
Director, Content & Artist Development, Time Warner, Inc.
Featured Guests:
Jillian Mayer
Artis & Collaborator, Mayer/Leyva
Lucas Leyva
Writer & Collaborator, Mayer/Leyva
4:30pm — 5:00pm
Latino Lens Spotlight
Created by NALIP and presented by Time Warner Foundation, with support from a variety of industry, media and organizational partners and sponsors. NALIP's Latino Lens is an exclusive incubation and media content production program designed to develop, nurture and produce a series of Latino creators' projects with a keen eye towards strengthening the Latino media pipeline. NALIP will present this year's Latino Lens winners, as well as discuss with partners Time Warner and HBO the importance and benefits around supporting these content creators during their journey.
Latino Lens
Axel Caballero
Presentation
Executive Director, NALIP
Moderator:
Lisa Garcia Quiroz
President, Time Warner Foundation
Featured Guests:
Axel Caballero
Executive Director, NALIP
Lucinda Martinez
SVP, Multicultural Marketing, HBO
5:00pm — 5:15pm
Break
5:15pm —6:15pm
One on One Conversation or Musical Set
6:15pm — 8:00pm
Networking Social presented by Latino Reel and Blackhouse Foundation
Monday, January 25 Session
4:00pm — 6:00pm
Presented by Blue Fox Entertainment
Diversity in Distribution.
Thanks panel will focus on new and upcoming filmmakers, as well as the diversity of evolving distribution platforms in a digital age. The panelists include James Huntsman, partner and founder of Blue Fox Entertainment, Scilla Andreen, CEO of IndieFlix and Andreas Olavarria, President of Level 33 Entertainment, and Angela Northington, Senior Vice President, Content Acquisitions for RLJ Entertainment.
Sundance Film Festival Demographics
• An estimated 46,107 people attended the Sundance Film Festival in 2015.
• 33 percent (15,215) were Utah residents (locals) and 67 percent (30,892) visited from outside Utah. Over the past seven years, locals have accounted for 30 to 34 percent of total Festival attendance.
• Festival attendees tend to be well educated – almost 80 percent are college graduates.
• About 43 percent of 2015 Festival attendees said their annual household income was more than $100,000; a percentage slightly lower than the 50 percent reported in 2014. Nonresident attendees were more likely to report having high annual incomes—51 percent compared with 33 percent of Utah residents.