Under the rich, creative environment of the Sundance Film Festival, Latino Reel is a showcase event held during the festival where Latino film is celebrated in a forum of networking and storytelling. The annual event features panel discussions on a variety of topics from industry leaders and trailblazers, who share their experiences, expertise and advice. The purpose of
Latino Reel is to provide a forum in which both aspiring and established Latino artists can network and share their knowledge and experiences while working to hone their filmmaking skills. For more information, go to LatinoReel.com.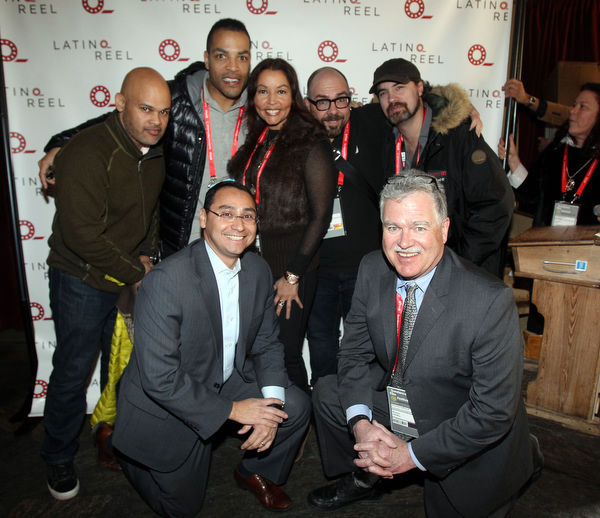 2017 Latino Reel Event Agenda • January 20 • Buona Vita Restaurant (804 Main St., Park City, Utah
WHERE: Buona Vita Restaurant, 804 Main Street, Park City, UT 84060
(Hosted at the Blackhouse)
Utah Film Commission on Main, 625 Main Street, Park City, UT 84060
WHEN:
On Friday, January, 20, Latino Reel sessions will take place from 1:30pm to 4:30pm.
Space is limited to 80 seats with additional standing room for 50 guests Latino Reel's program is open to the public by RSVP at rsvp@vox-creative.com.
On Sunday, January 22, Latino Reel's final session, The Importance of Creating Films of Stories that have not been Told, will be presented from 3:00pm to 5:00pm. Space is limited to 50 guests. Latino Reel's program is open to the public by RSVP ONLY at rsvp@vox-creative.com.
---
Friday, January 20th, 2017, 1:00-2:30 PM
Moderator: Andrew Diaz
Panel: State of Affairs. Latino and other diverse actors, producers, directors confront issues in the film and television industry.
Despite recent breakthroughs in the film and television industry, Latinos continue to face
barriers in developing Latino-related film projects and producing Latino-focused content. The
panel will delve into the issues and challenges facing Latinos in the industry today, and discuss
the breakthroughs happening to bring all voices to the screen. They will address overall trends
in the industry and how they affect the role of Latino actors and filmmakers from diverse
backgrounds who are making an impact on the industry.
Panelists:
Marta Fernandez, Senior Vice President, Original Programming, Starz; Carlos Portugal, Showrunner, East Los High; Ray Santiago (Pablo Simon Bolivar), Actor; Heather Rae, Producer, Tanya Saracho, Playwright
---
Venue: Blackhouse, 804 Main Street, Park City
Friday, January 20th, 2017, 3:00-4:30 PM
Moderator: Alma Tilghman
Panel: A Multicultural Conversation: America's New Frontier
Is the film and television industry telling the stories of all communities and cultures? How are
diverse communities portrayed, and is the content an accurate representation of the culture?
This panel discussion will look into content as it relates to the Latino experience. It will address
the topics of the industry and how artists from diverse backgrounds are able to connect with
audiences in sharing their stories.
Panelists:
Anasa Troutman, writer, producer, and entrepreneur;
María Agui Carter is a playwright, screenwriter and an
Brian C. Walker, Culture & Entertainment Advocacy Director.
---
Venue: Utah Film Commission on Main
625 Main Street, Park City
Sunday, January 22, 2017, 3:00-5:00 PM
Moderator: Robyn Moreno, Editor of Latina Magazine
Panel: The importance of creating films of stories that have not been told?
Even with the recent success of Latino filmmakers, there is still a need for more authentic Latino narratives and characters that can reference who Latinos are today in the United States. How can Latino filmmakers take on the challenge of exploring identity, Latino identity at a deeper level? Demystifying the Latino experience is very important to affect the overall culture, and the only way to accomplish that demystification is through the media. The demystification of Latinos will happen as more actors and filmmakers produce their own projects devoted to Latino culture. What will it take to share the Latino identity through film, and why is it relevant? How do filmmakers from other diverse backgrounds tell their stories? And, how they breakthrough to become more relevant in an industry slow to change?
Panelists:
Camila Chavez, Executive Director, The Dolores Huerta Foundation and cast member of Dolores the film premiering at Sundance; Mari Aixala, Founder, Animari Films and additional members of the Dolores the film cast members.

---
Sundance Film Festival Demographics
• An estimated 46,107 people attended the Sundance Film Festival in 2015.
• 33 percent (15,215) were Utah residents (locals) and 67 percent (30,892) visited from outside Utah. Over the past seven years, locals have accounted for 30 to 34 percent of total Festival attendance.
• Festival attendees tend to be well educated – almost 80 percent are college graduates.
• About 43 percent of 2015 Festival attendees said their annual household income was more than $100,000; a percentage slightly lower than the 50 percent reported in 2014. Nonresident attendees were more likely to report having high annual incomes—51 percent compared with 33 percent of Utah residents.